What to drink?


a film by Nancy Brandt and Thomas Doberitzsch

director, editing: Nancy Brandt
camera, light: Thomas Doberitzsch
sound: Ralf Schauer
sound arrangement: Friedrich Wohlfarth
director's assistent: Patricia Zeckert
interpreter: Iva Milutinović
translation: Dušan Hajduk-Veljković
negative cutting: Féjja Gyöngyi
producer: 3 Kamele Film
film location: Dubrovnik, Croatia

Germany 2003/04, 35 min, 16 mm, colour


promoted by the Student Service Leipzig, by the Students' Council of the Leipzig University of Applied Sciences and by the Students' Council of the Leipzig University
supported by Media Foundation of the Sparkasse Leipzig, Kodak GmbH, Geyer Werke GmbH, Leipzig University of Applied Sciences, Birkel Teigwaren GmbH
You can order "What to drink?":

VHS-Cassette (PAL, with English or German subtitles): 12,31 EUR
DVD (with English and German subtitles): 15,39 EUR
(incl. 19% VAT)



Film screenings and festivals:

* 27th of November 2003, 5th Croatian Filmdays Berlin
* 2nd of March and 7th of July 2004, Kommunales Kino Leipzig in "die naTo"
* 15th of April 2004, Filmfest Dresden – International Festival for Animation and Short Films
* 26th of April 2004, goEast – 4th Festival of Central and Eastern Europeen Film Wiesbaden
* 5th of June 2004, Int. Student Congress "Studenten bauen Brücken", Hamburg
* 7th of July 2004, Kommunales Kino Leipzig in "die naTo"
* 12th of August 2004, "Mali filmski festival" in Šipanska Luka (Croatia)
* 17th of August 2004, Portobello Film Festival, London
* 17th of September 2004, Halbbilder – Short Film Festival, Magdeburg
* 29th of September 2005, Klub Orlando, Dubrovnik


Television:

* ZDF-Dokukanal 2008, 2009
* MDR, 17.12.2009



Awards:

First Prize in the category "life pictures", Halbbilder – Shortfilm Festival Magdeburg


About the film



Pero is a sculptor. He conjures faces, vases, sculptures from the white stone of the coast. Between them there is also Madame Pis Pis. If Pero press a button in his atelier, the proud lady can passing water. A lot of tourists get wet by her...



But actually Pero hasn't always been sculptor. He sold self-made lemonade, studied history in Zagreb, was a head waiter in a famous touristic restaurant and the manager of the music group "Dubrovački Trubaduri". He also owned an old German submarine, in which he practised the discothek "Yellow Submarine".

Pero is an hedonist. He has always known how to help himself. Now he preferes to spend the everyday-life in his atelier. With a little mite the children of the neighbourhood go shopping for him. Lest he must move from his chair, he has his "wonderstick". With it he's able to use his ventilator, switch on the TV or radio and close the door. However latter is mostly open, because of his guests going always in and out.

Peros best friend is the postman Miho Džanović. Punctually at 12 o'clock he brings the post to Pero and stays always for a while until his slug is empty. But also the tourists who stay a little bit longer in front of Peros sign "panorama, toilet, water gratis" will find themselves in his atelier with a slug in their hands. Pero is very hospitable and likes to talk. You can speak with him about everything. About Dubrovnik, his exciting life, but also about politics and the "Patriotic War", how it is called by the Croatians.

However there is a difference, if he talks about this topic. Pero's funny voice reminding a bear gets really angry. Irately he speaks about the politians who are all bandits and about the Serbs who seems to be really hated by Pero, although he has to qualify his opinion, because he likes our Serbian interpreter Iva Milutinović very much. That's the other side of Pero. But he isn`t an individual case. The war has left its mark on all the different populations of the former Yugoslavia.

Could you understand him? Does the history justify his opinion? "What to drink?" he askes and invites us to discuss with him about that...
Pero died in December 2004 in the age of 56.
Forums
About the film: What to drink? - Pero Limunada
About Pero's death: Ode još jedna legenda
Film location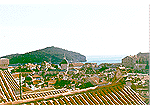 Dubrovnik is situated in the south of Croatia and almost only accessible from the Adria road. It is one of the World Heritage Sites. In 1191 founded as a trading town, it could save its cultural heritage and autonomy till 1990. However in 1991 to 1992 the town was in an inferior position against the shells of the Yugoslavian army and therefore big parts of the old town were destroyed. Later the old part of the town could be restored by a long figure of UNESCO-financial means. Since then Dubrovnik has redeveloped to the main attraction in its region. Its mediaeval centre, the beach of the turquoise-blue sea and the surrounding islands attract thousands of tourists every year.
stills
up